The Tackle Spot: Gifting Fishing Gear and Friends for Life | Local News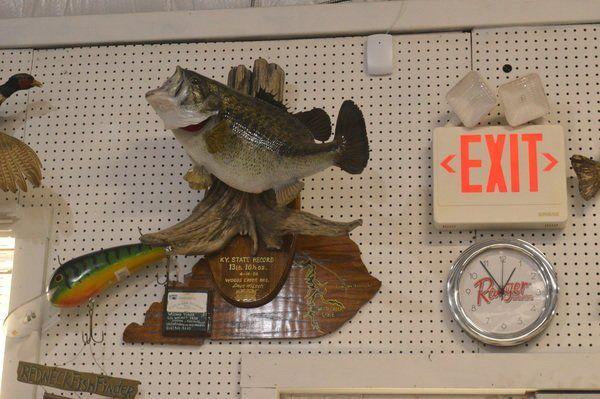 Bass caught over the years hang all along its walls. Just above the door is a 13-pound bass, captured by Dale Wilson at Woods Creek in 1984. This bass holds the current Kentucky State Record, says Bill Stewart, owner and founder of The Tackle Spot.
"I started The Tackle Spot in '85 – that was a long time ago," Stewart recalls. "I started it because I had nothing else to do. At the time, the building was empty and the rent was horribly cheap. So I started the store as a hobby."
The Tackle Spot is a local store with essentials for fishing and archery, as well as a place for anglers to meet and talk about the good old days. Formerly located at 1903 North Main Street, the store moved to 990 North Laurel Road last month.
"I've been fishing since I was a teenager," Stewart continued, "When I was a kid there was nothing to do but fish and hunt. It was a child's curiosity that prompted me to to fish."
Stewart was eating salad in his office as he spoke with Dennis Hammonds, the coach of the South Laurel High School fishing team.
"I love to fish, and it's obvious she took off in South," said Hammonds. "Kids love to go out on the lake and have fun. We have kids who love to go out and fish whenever they get the chance." Hammonds has boasted that his students have won regional competitions for the past three consecutive years, with some of his students even winning national championships.
"I talk to a lot of the guys who come here. A lot of them are my boat captains," Hammonds added. He explained that the boat captains act as individual coaches for each student. They teach children different fishing techniques and how to use different types of bait.
"It's a good place to find boat captains," Hammonds continued, "it's the key to high school fishing – having enough boat captains."
Hammonds met Stewart several years ago while fishing in a tournament together. The shop is now offering members of the South Bass Fishing Team a discount on fishing gear, and Stewart plans to act as a boat captain for their team in 2019.
"The Tackle Spot works great with us and they have products that I love to use," added Hammonds. "Quantum rods are very sensitive. If you throw a crankbait and hit something, the rod will give in and not get stuck as much."
While helping the South Fishing Team, Stewart said he enjoys all of the local Laurel County sports and enjoys providing moral support. As for The Tackle Spot, he is unsure of the store's future.
"I'm really old. I would probably die and leave him. It's the truth. I have no family and no children," said Stewart.
He still fishes as a hobby, now participating in Foreign Wars Veterans (VFW) fishing tournaments as an honorary member.
"When you fish, go out there and have a good time. Enjoy the outdoors," said Stewart.
"If you come out with the attitude to enjoy it, you'll get hooked," Hammonds said, "It's something you can do your whole life. You will also meet a lot of nice people."
The Tackle Spot can be reached at (606) 864-7614. They also have a website at www.TackleSpot.com and a Facebook page which can be found by searching for "The Tackle Spot" on Facebook. The South Laurel Fishing Team also has a Facebook page, which can be found by searching for "South Laurel High School Fishing Team" on Facebook.